This post may contain Amazon or other affiliate links. As an Amazon Associate I earn from qualifying purchases.
This easy Shrimp Aguachile recipe features shrimp marinated in lime juice and then tossed in a bright and spicy chili-lime marinade. It's a no-cook Mexican appetizer recipe that begs to be washed down with a cold, refreshing margarita!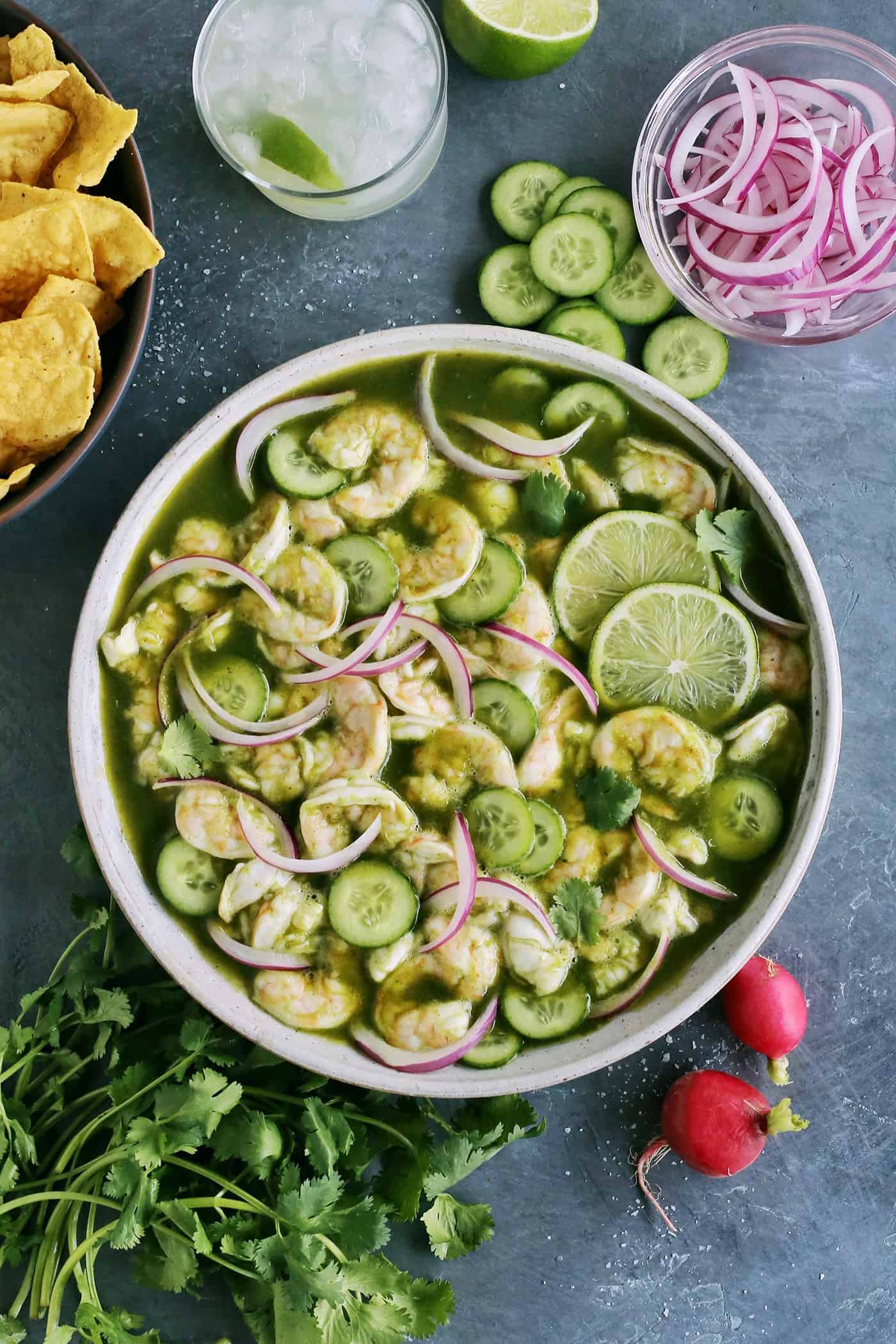 Easy Shrimp Aguachile Recipe
If you've ever traveled to the beaches of Mexico, you likely saw Aguachile on the menu. It's a classic Mexican appetizer that begs to be enjoyed with a classic margarita!
And lucky for me, and for you, it's quite easy to make right in our own kitchens. It begins similarly to shrimp ceviche, with lots of fresh lime juice and shrimp. Then it differs, with aguachile adding a lovely aromatic and flavorful marinade that's fabulously spicy with chili peppers.
Served cold with some crispy tortilla chips, this shrimp aguachile has become an appetizer favorite. You know how much I love my shrimp recipes!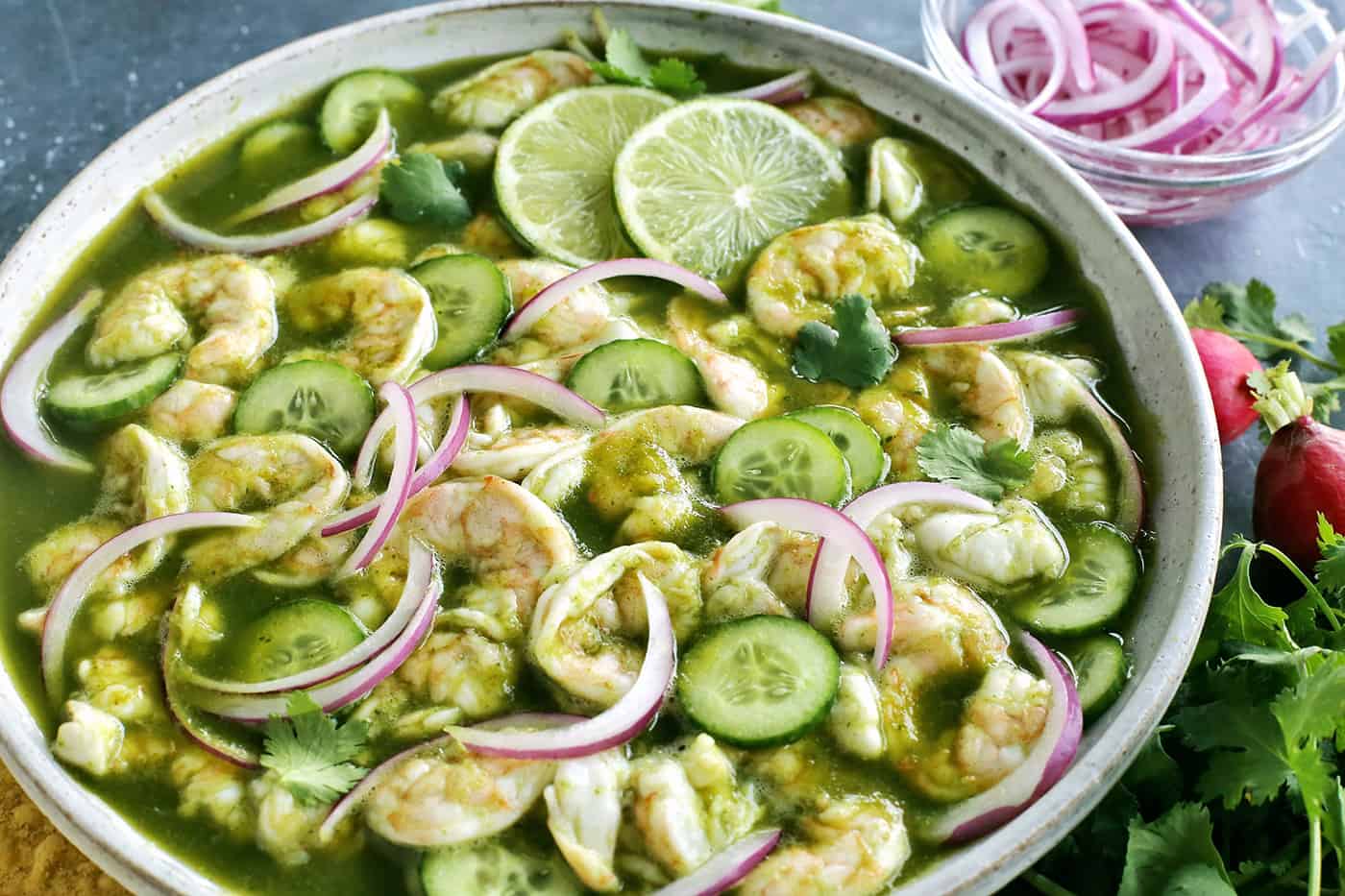 What Is Aguachile?
Aguachile, which translates to "chili water", is a version of Mexican ceviche. Aguachile de camaron (shrimp), like this recipe, is most popular – but it can also be made with fish and other seafood.
Like ceviche, the protein in aguachile is cooked by the acidity of the lime juice. Then a beautiful green marinade made with blended cilantro and chili peppers is added, before being topped with onions and cucumbers, and radishes if you like.
It's light, it's refreshing, and it's perfectly spicy!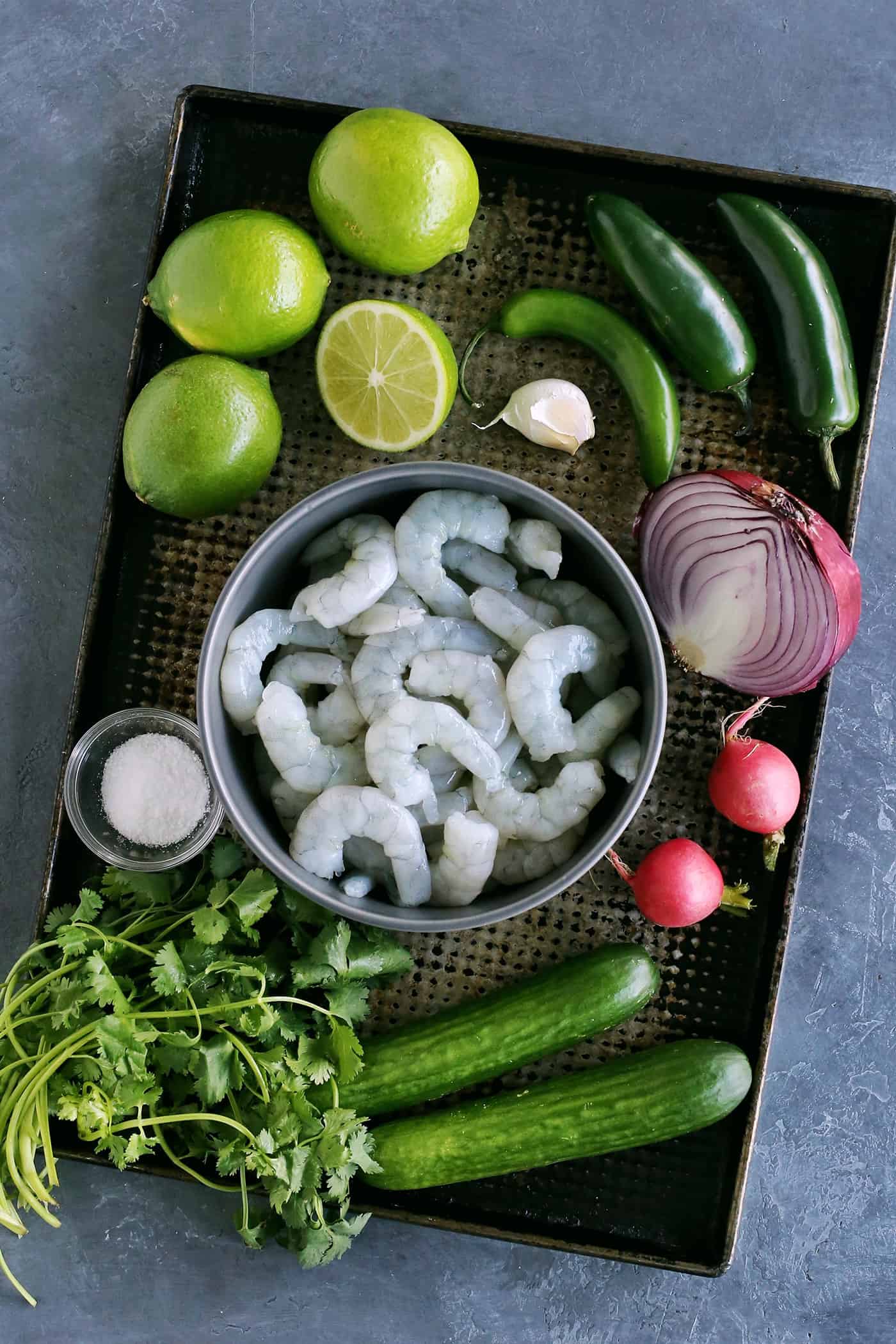 Ingredients
Here's what you'll need to make your homemade aguachile!
Onions – Sliced very thin. I like to use a mandoline (affiliate link) for the most even, thin slices.
White vinegar – For soaking the onions, which gives them a lightly pickled flavor.
Shrimp – I use large shrimp, 31/40 per pound, as they're easier to work with. Peel, devein, and remove the tails.
Limes – The juice marinates and "cooks" the shrimp. Be sure to use only freshly squeezed juice. It also goes in the marinade, along with some zest.
Cilantro – Since the marinade is blended, you can use both the leaves and the tender stems. This is a big part of the flavor profile of aguachile.
Peppers – I use two medium jalapeno peppers and one serrano chili, with the seeds removed from both. The jalapenos provide a nice bright chili flavor while the serrano provides some extra heat.
Persian cucumbers – A mandolin is also great for slicing these.
Red radishes – Thinly sliced.
Is Raw Shrimp Safe to Use?
Similar to ceviche, raw shrimp is used to make aguachile. However, the acidity of the lime juice "cooks" the shrimp while it marinates, effectively cooking it before eating so you're not actually eating raw shrimp. This is why it's important to marinate the shrimp until it has turned opaque pink and white.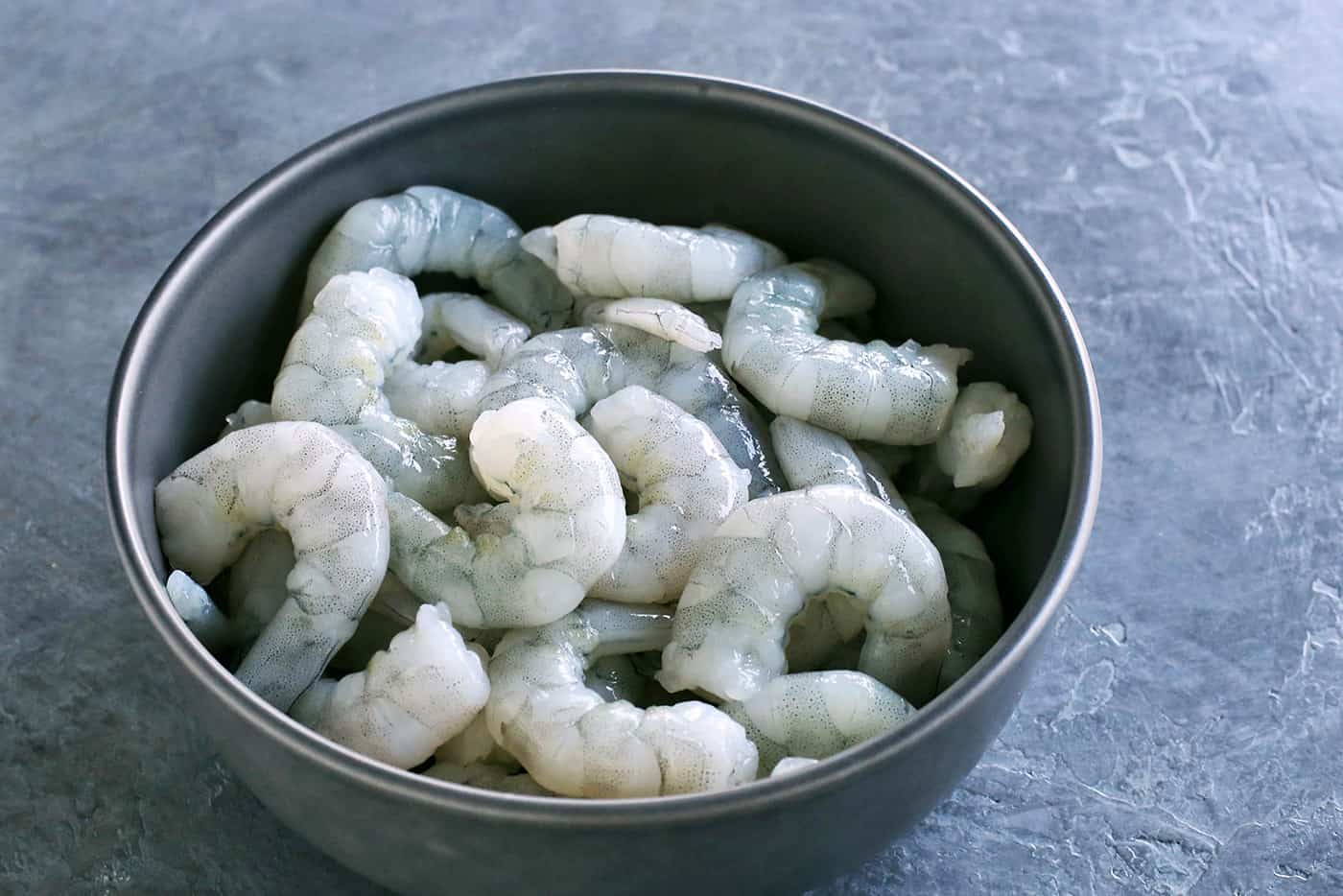 Can I Make This With Other Seafood?
Yes, while aguachile de camaron (shrimp) is the most popular, you can also swap the shrimp for any white fish, scallops, or even octopus or squid.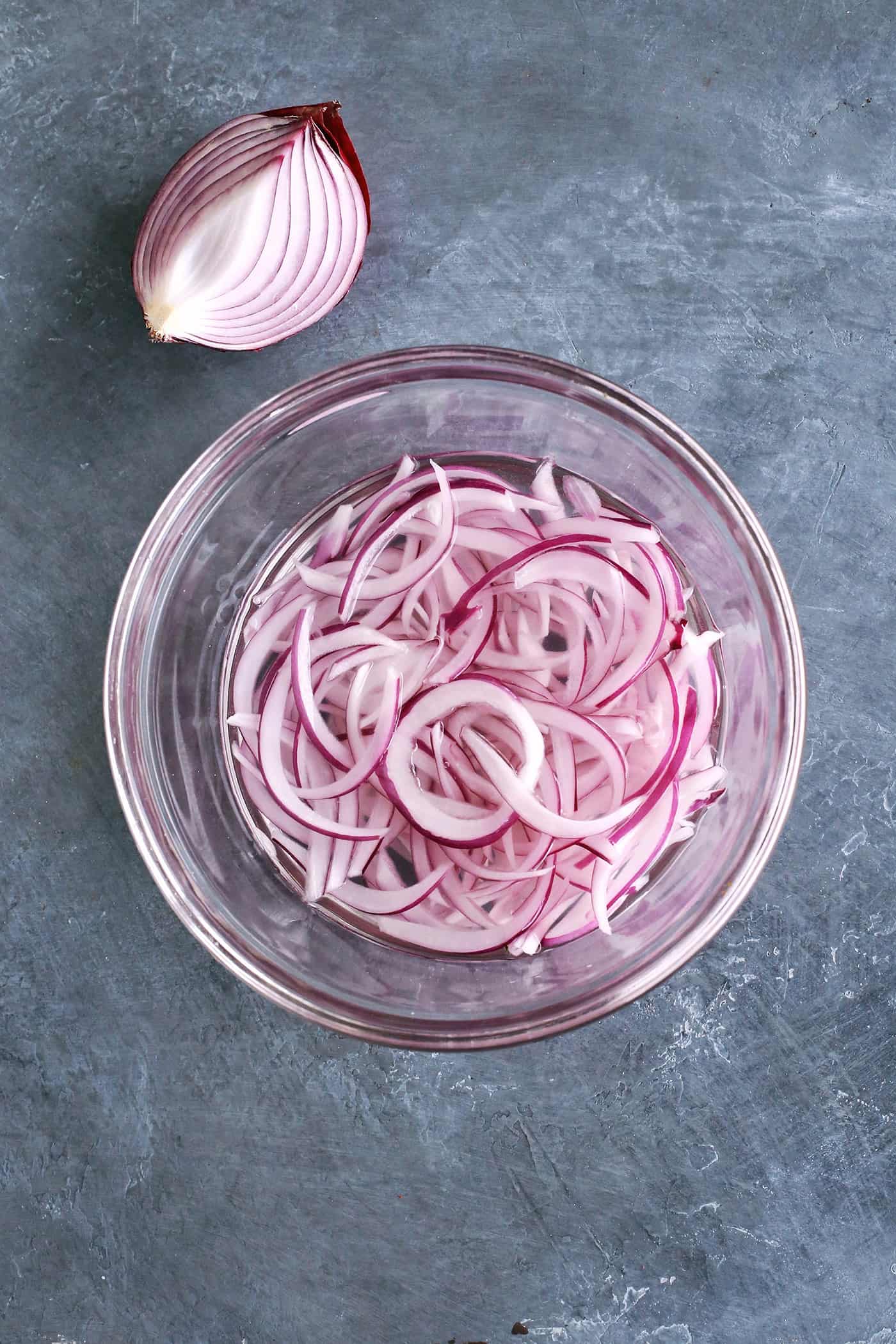 How to Make Aguachile
Making aguachile is an easy process that requires 0 cooking!
Prepare the onions. Sprinkle the onion slices with salt in a small bowl. Add the vinegar and just enough water to cover the onions. Set aside. If you have some pickled red onions in the fridge, you could just use those instead (which will actually have more pickled flavor), and skip this onions step.
Prepare the shrimp. Slice the shrimp in half lengthwise, then place in a bowl and sprinkle with salt. Add the lime juice and fold gently, ensuring all shrimp are covered with the juice. Refrigerate, stirring every 5 minutes, until all of the shrimp have turned opaque or white/pink in color.
Prepare the marinade. Blend all marinade ingredients until completely smooth.
Combine the marinade and shrimp. Add the marinade to the shrimp. Refrigerate for 30 minutes.
Assemble and serve. Transfer the shrimp to a serving bowl. Top with marinated onions and cucumber slices, plus radish slices if desired. Serve with tortilla chips or saltine crackers.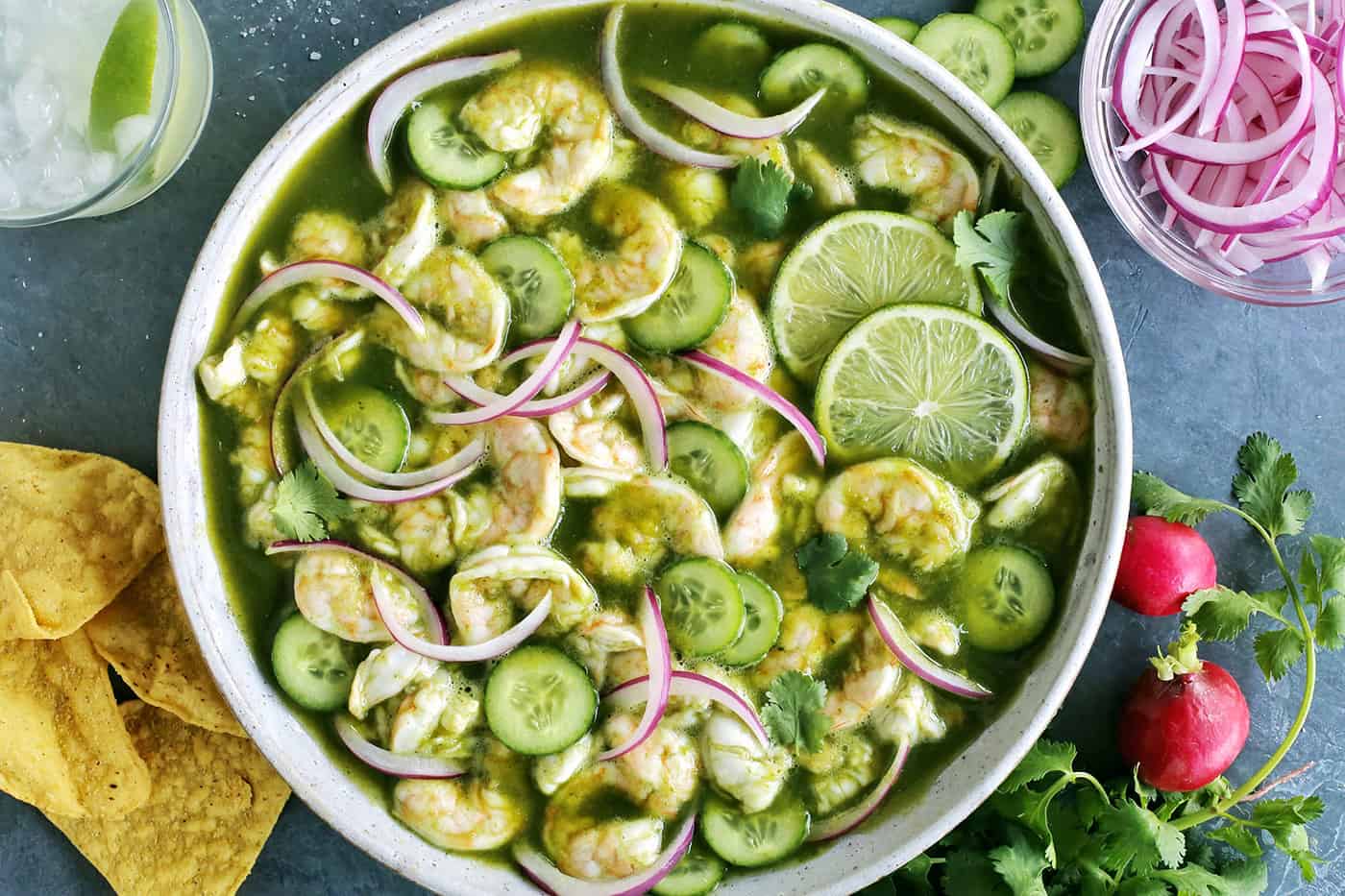 Tips & Variations
Here are a few tips for the best aguachile de camaron, as well as a few variations.
Use fresh lime juice. Always, always make dishes like ceviche and aguachile with freshly squeezed lime juice. This will give you the freshest, brightest flavor and acidity. Aguachile with bottled lime juice is just…no.
Keep the shrimp cold. It's easier to cut the shrimp when they're cold. Speaking of, you always want to slice the shrimp in half so that it "cooks" evenly. In a pinch, you could just chop the shrimp into smaller bites – which will still give you all the same flavor, yet it won't have quite the usual presentation.
Spice it up. The hotter the peppers you use, the spicier your shrimp aguachile will be. One serrano pepper is usually the best amount for me but add another if you like.
Tone it down. On the other hand, you can omit the serrano completely if you prefer a more mild flavor.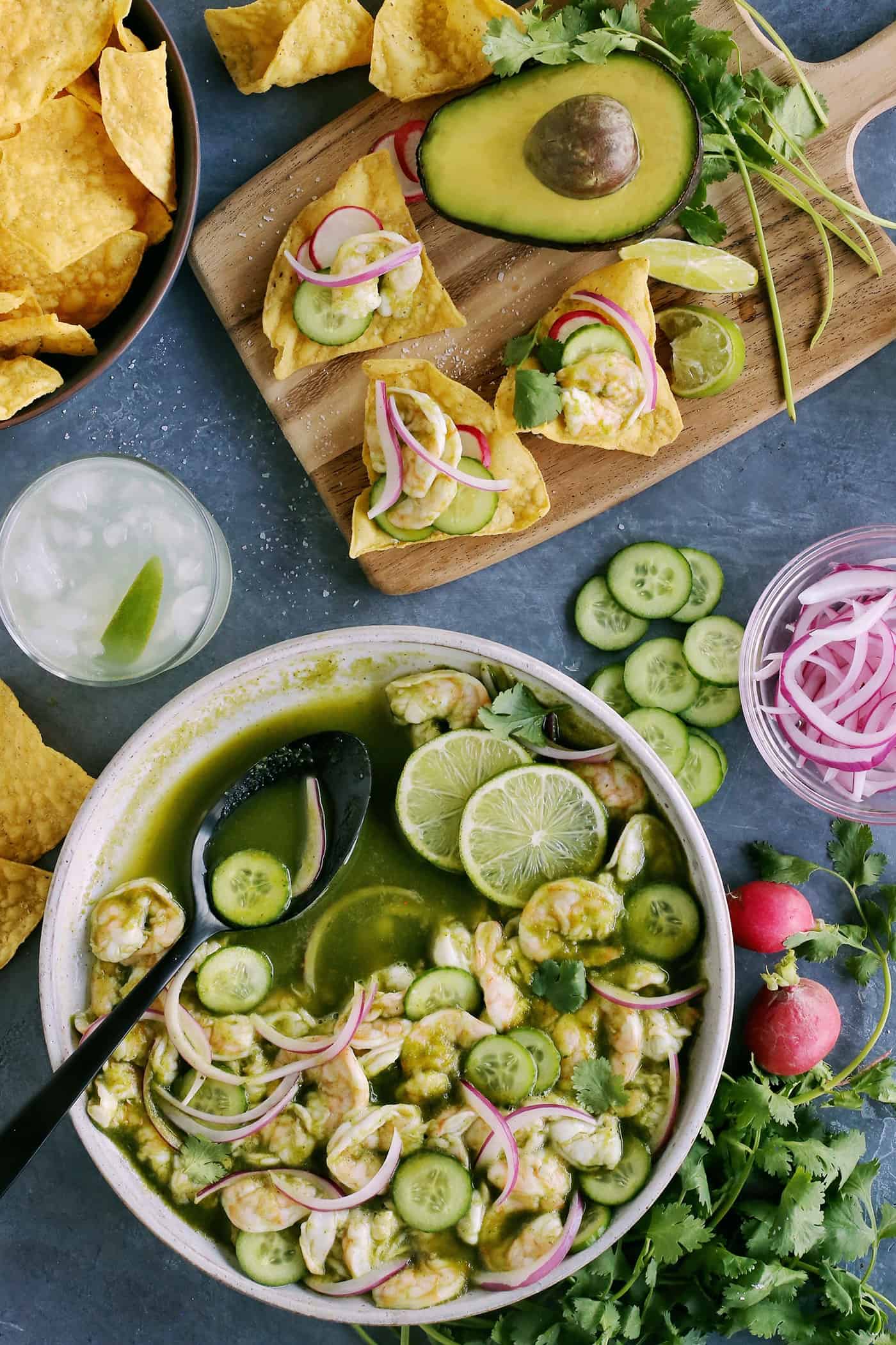 Serving Suggestions
Serve your aguachile in a wide, low rimmed platter. Top with some of the marinated onions and sliced cucumbers.
If you're a radish fan, go ahead and add some radish slices – or just offer them on the side. For those who really like to feel that heat, add some additional jalapeno slices to the aguachile – or offer them on the side.
Avocado, on the other hand, makes a great addition to tone down the heat a bit. And I like the creamy texture it offers!
Always serve shrimp aguachile cold. You can scoop it up with your favorite tortilla chips or saltine crackers, or you can serve it on tostadas for a fun presentation. Plantain chips and yucca chips are also tasty – and very traditional to this dish in Mexico.
And, of course, I will always recommend serving this traditional Mexican appetizer with a cold, refreshing margarita. Here are 10 must-try margarita recipes to get your juices flowin'!
How to Store
Aguachile should be enjoyed within 4 or so hours of preparing it. The lime will continue to "cook" the shrimp and after a while the texture won't be ideal. So while you want to let this refrigerate for at least 30 minutes prior to eating, don't go overboard. Enjoy it as soon as possible for the most delicious, tender shrimp experience!
Up until you serve it, keep the aguachile covered in the fridge.
More Seafood Recipes:
Like this recipe? Save it to Pinterest!
Ingredients
For the onions:
½ of a small red onion, very thinly sliced – I use a mandoline
1 teaspoon kosher salt
¼ cup white vinegar
For the shrimp:
1 pound raw shrimp, peeled, deveined, tails removed (I use large shrimp, 31/40 per pound)
½ cup freshly squeezed lime juice
½ teaspoon kosher salt
For the marinade:
½ cup freshly squeezed lime juice
zest from 1 large lime
1 large clove garlic
1 cup roughly chopped and lightly packed cilantro leaves and tender stems
2 medium jalapenos, sliced in half lengthwise, seeds removed
1 serrano chili, sliced in half lengthwise, seeds removed
2 Persian cucumbers, thinly sliced (Again, a mandolin works great for this)
4 small/medium red radishes, thinly sliced
Instructions
For the onions: Place onion in a small bowl and sprinkle with salt. Add the vinegar. Then add just enough water to cover the onions. Set aside.
For the shrimp: Slice shrimp in half lengthwise (it's helpful to have the shrimp very cold when doing this), removing any remaining veins and/or tails. Place in a low wide glass bowl, in an even layer, and sprinkle with salt. Then pour lime juice over the shrimp. Fold gently to mix the lime juice well with the shrimp, as the lime juice will "cook" the shrimp with its natural acidity. Place in refrigerator to keep cold – and fold shrimp every 5 minutes or so, until all shrimp have turned from opaque to white/pink in color. This should take 20-30 minutes total.
For the marinade: Place all marinade ingredients in a high-powered blender and blend until completely smooth, scraping down sides as needed.
Add marinade to shrimp and fold to coat. Refrigerate for 30 minutes, and up to 4 hours.
To serve: Transfer marinated shrimp to a low wide serving bowl or platter. Drain the marinated onion slices. Top the shrimp with a scattering of onion, cucumber, and radish slices, plus offer additional on the side if desired. For those who really like heat, also offer additional slices of jalapeno. Serve cold with your favorite tortilla chips, saltine crackers, or mini tortillas. Avocado is also great with this!
Recommended Products
As an Amazon Associate and member of other affiliate programs, I earn from qualifying purchases.
Nutrition Information:
Yield: 6
Serving Size: 1

Amount Per Serving:
Calories: 197Total Fat: 8gSaturated Fat: 2gTrans Fat: 0gUnsaturated Fat: 4gCholesterol: 115mgSodium: 1125mgCarbohydrates: 15gFiber: 2gSugar: 3gProtein: 18g
Nutrition information is automatically calculated by Nutritionix. I am not a nutritionist and cannot guarantee accuracy. If your health depends on nutrition information, please calculate again with your own favorite calculator.