This post may contain Amazon or other affiliate links. As an Amazon Associate I earn from qualifying purchases.
With a simple pickling brine and a few spices, Quick Pickled Asparagus has a tangy, robust flavor with just a bit of heat from red pepper flakes. It's an easy recipe, no canning required. Enjoy these tender-crisp spears on a cheese board, with a salad, in your Bloody Mary, or just as a snack!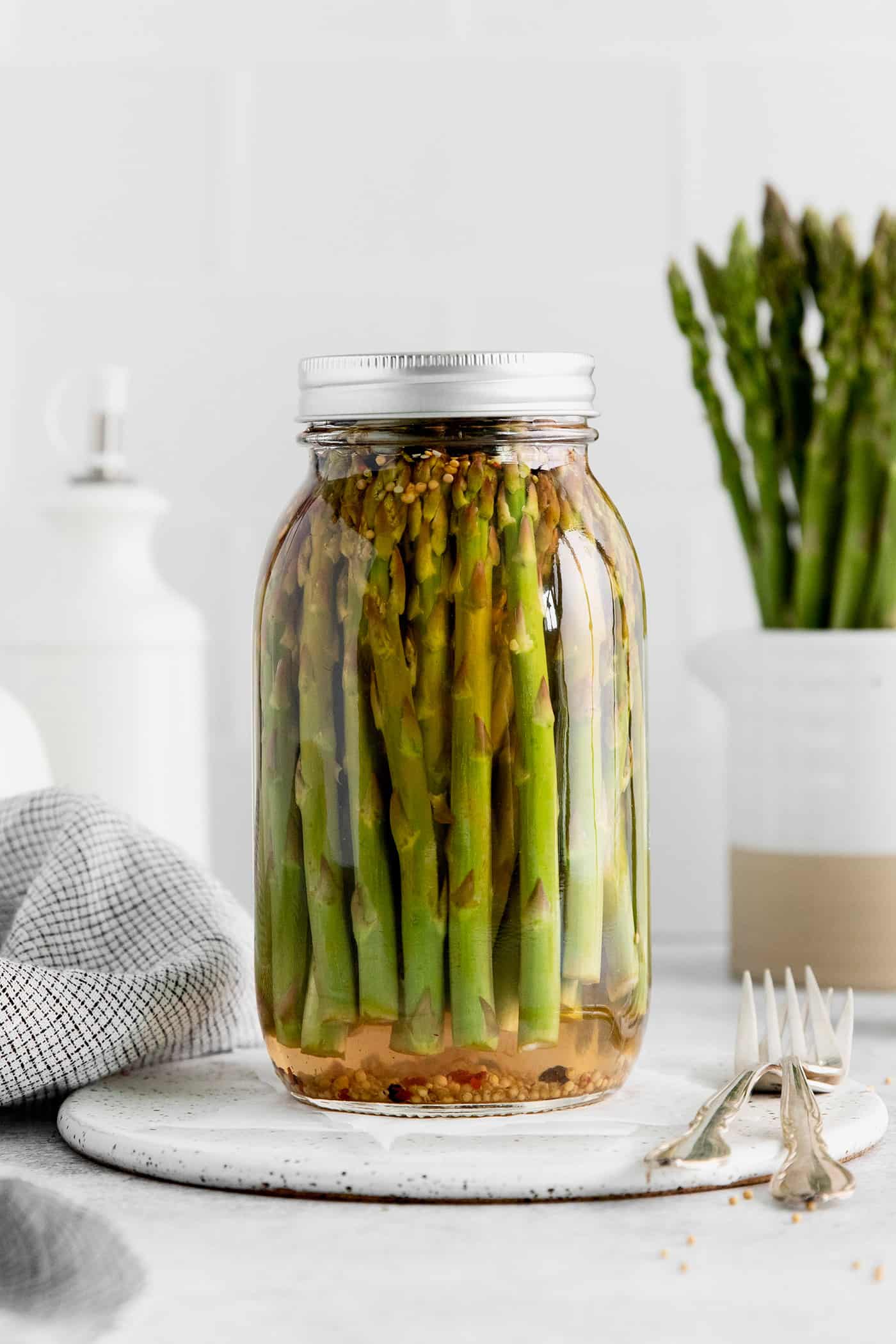 Easy Refrigerator Pickled Asparagus
I think we all know by now that if there's a fresh ingredient that can be pickled, I'm going to do it. Especially when it's something I love as much as asparagus!
This Quick Pickled Asparagus recipe turns your basic asparagus into a crisp-tender, tangy treat. With a bit of warmth from red pepper flakes, it's dangerously addictive!
I love to eat pickled asparagus spears straight from the jar as a snack, but there's actually so much more you can do with them. Serve them as a quick side to a summer lunch, tuck whole or cut spears into a salad, offer them on a cheese board, or take your Bloody Mary cocktail garnish to a whole new level. So good!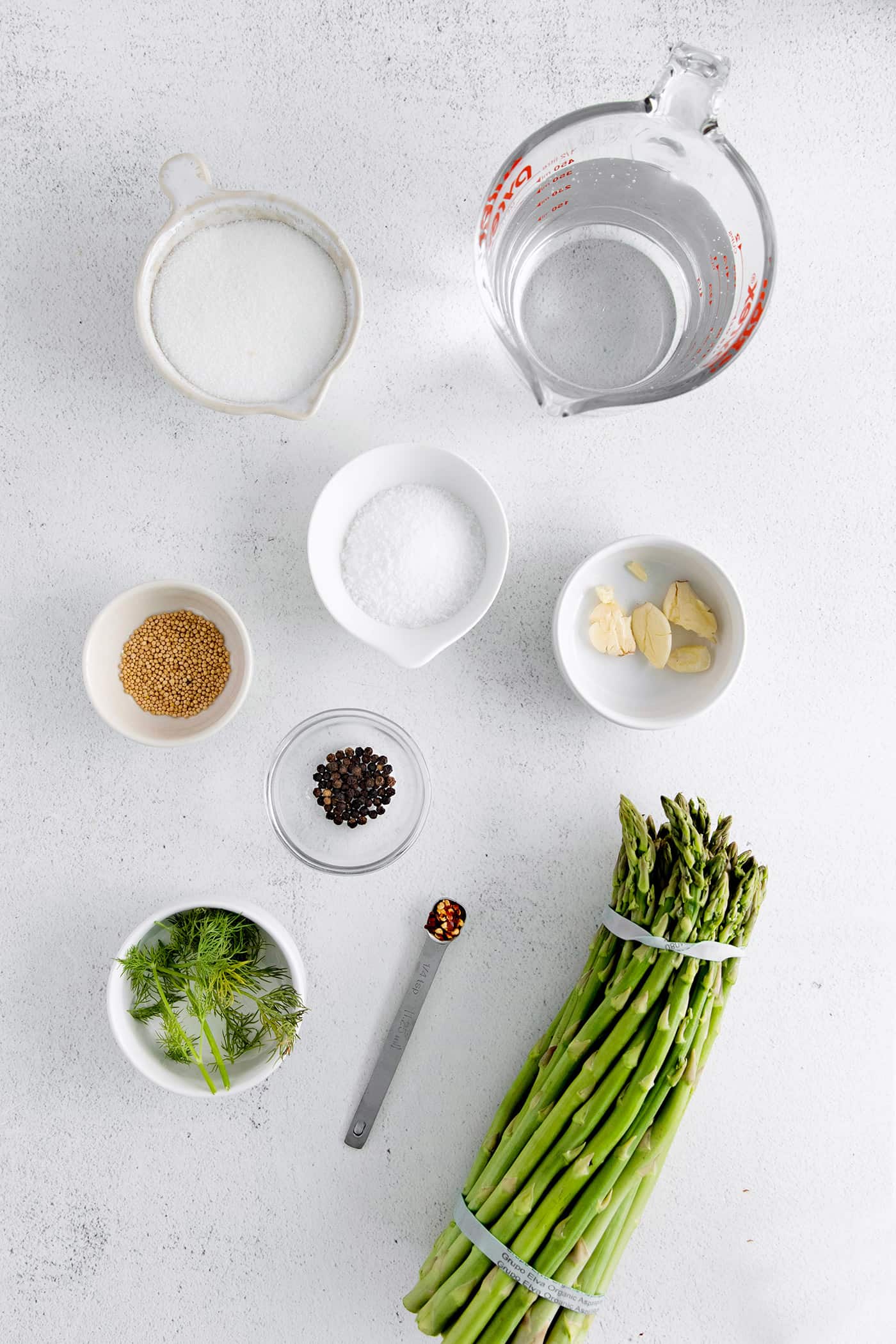 What You'll Need
This recipe requires just a few seasonings plus a handful of kitchen staples.
Fresh asparagus – You'll need 1.5 pounds of asparagus for this recipe, about 40 to 45 medium-sized spears.
Garlic – Smash it to infuse flavor throughout.
Seasonings – Black peppercorns, yellow mustard seeds, crushed red pepper flakes, and fresh dill add flavor to the pickling liquid.
White vinegar – The acidity of the vinegar is what pickles the asparagus.
Sugar – A typical pickling ingredient, to add some sweetness.
Salt – Another usual pickling ingredient.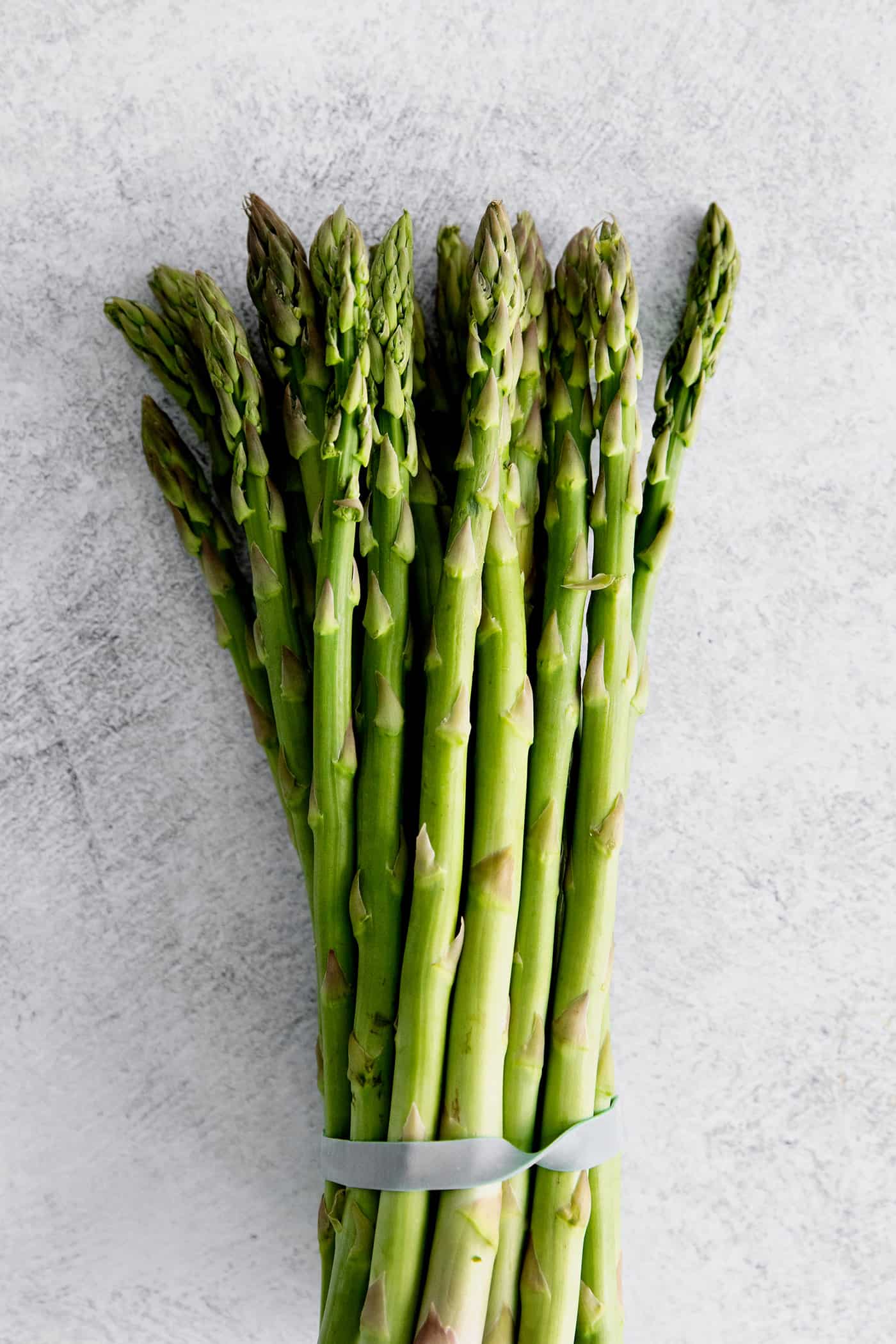 How to Make Pickled Asparagus
Here's how to quickly and easily make pickled asparagus.
Trim the asparagus. In addition to snapping off the woody ends, you'll need to trim the asparagus to fit into your jar, with an additional half-inch of headspace.
Add to the jar. Place them in the jar, tips up, as tightly as possible. Add the seasonings to the jar as well.
Make the pickling brine. Bring the vinegar, sugar, and salt to a boil, then whisk vigorously until the sugar and salt dissolve. Immediately pour over the asparagus, being sure to cover it completely.
Cool. Let the jar cool on the counter, then add the lid and refrigerate. Wait at least 24 hours before diving in.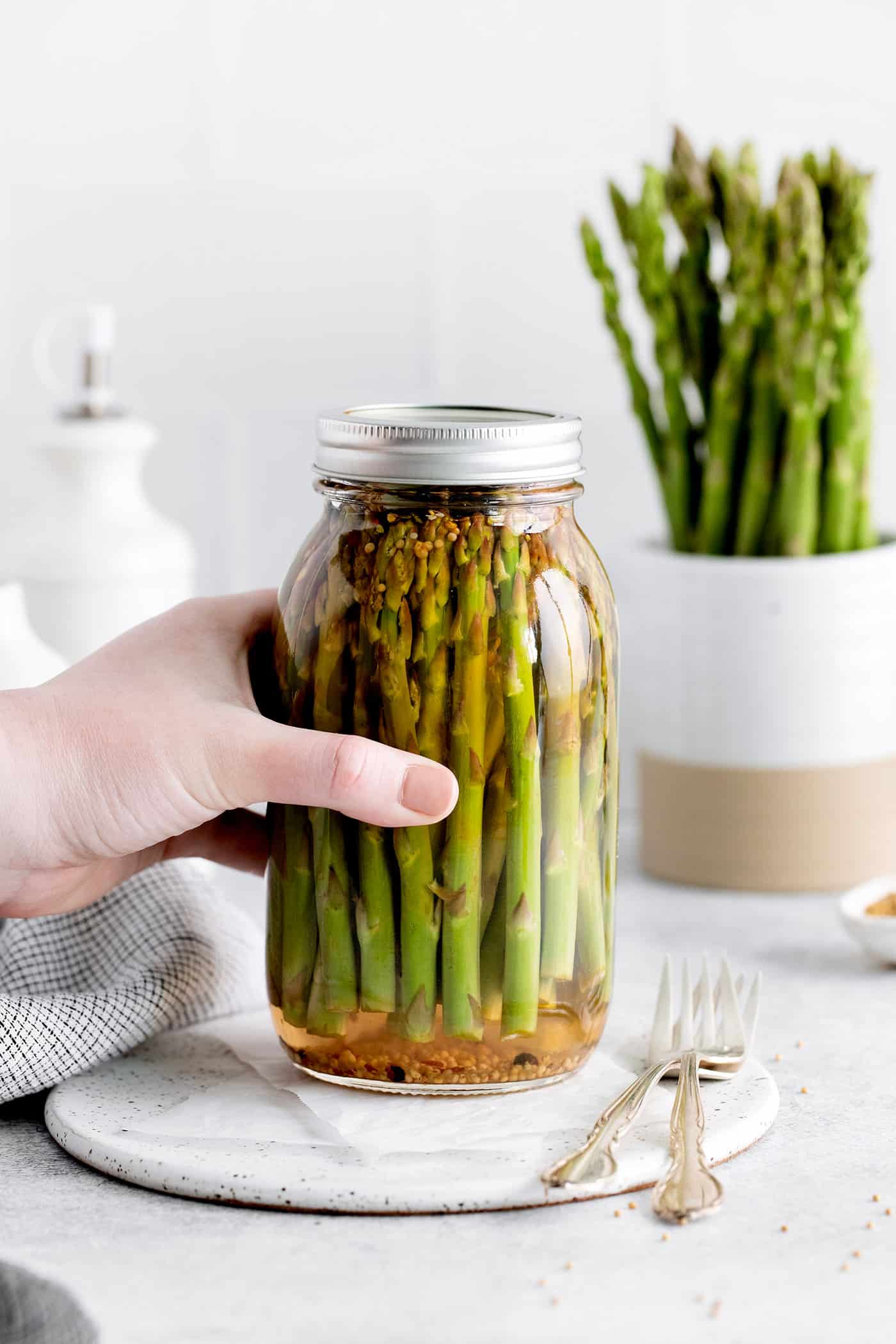 Tips for Success
Here are a few tips for making the best quick pickled asparagus.
Use the best asparagus. Always look for the freshest asparagus. If it's limp, tough and woody, or has mushy tips, don't bother!
Adjust the spices to your liking. If you like spicy asparagus, add some extra red pepper flakes. You can add more garlic too, if you wish.
Leave room at the top of the jar. It's important when you trim the asparagus, to trim them short enough that 1/2″ is left remaining at the top of the jar, as the pickling brine needs to fully cover the tops.
Wait a few days before enjoying. While you can eat these after 24 hours, I definitely recommend waiting a few days if you can. The flavor just gets better – more intensely pickled – the longer they're in the fridge!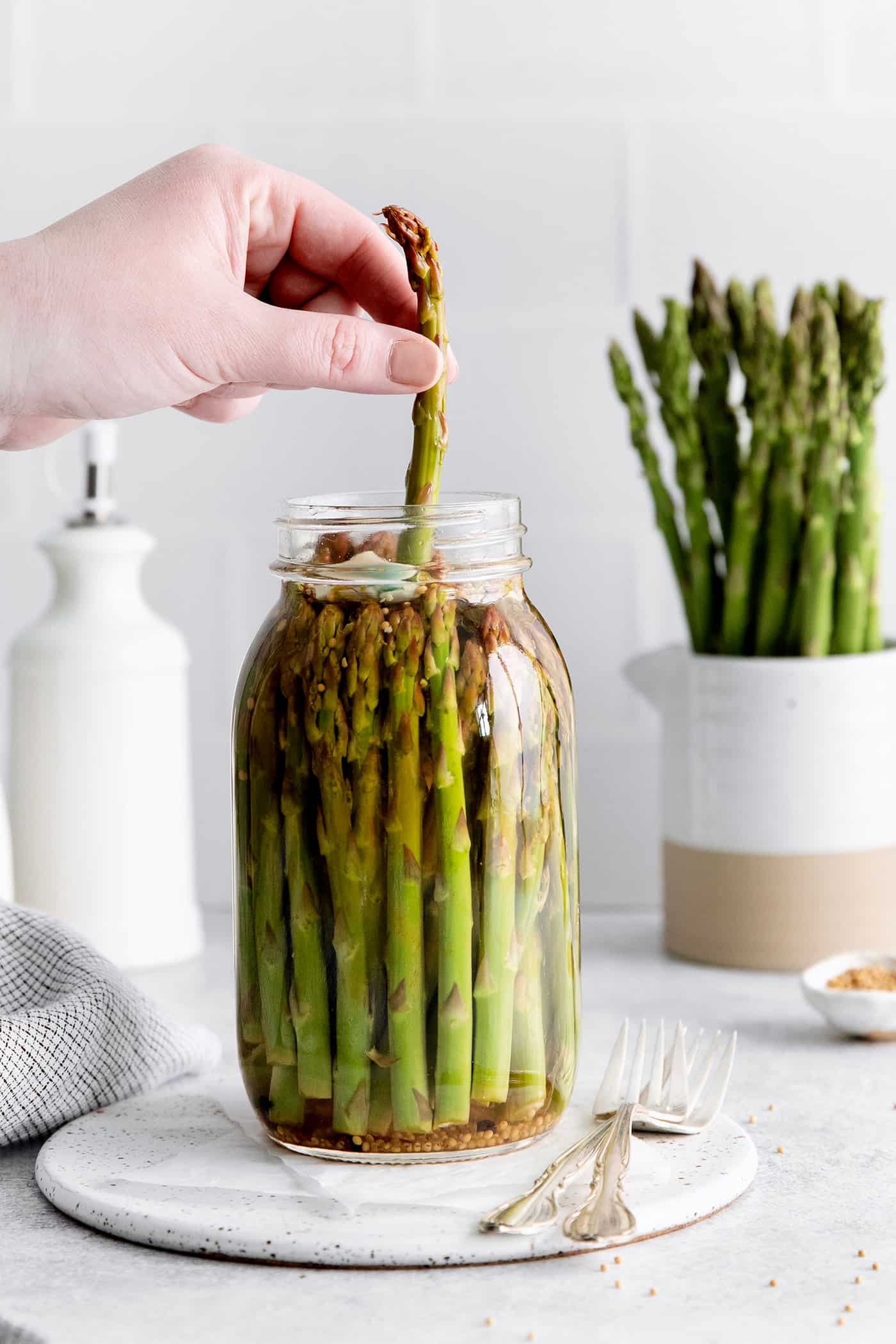 Serving Suggestions
I am 100% guilty of sneaking these asparagus spears straight from the jar in the fridge. Morning, noon, or night.
But besides being a perfect snack, there are many other ways to enjoy them…
They make a great garnish to a Bloody Mary or caesar cocktail, as well as a prize addition to a charcuterie board, cheese plate, or relish tray.
You can serve them up as a side dish to a sandwich or most any casual meal. Or add them to the top of salads for extra crunch and a lovely tangy flavor.
Pickled asparagus is also pretty wonderful with some eggs. Again…morning, noon, or night!!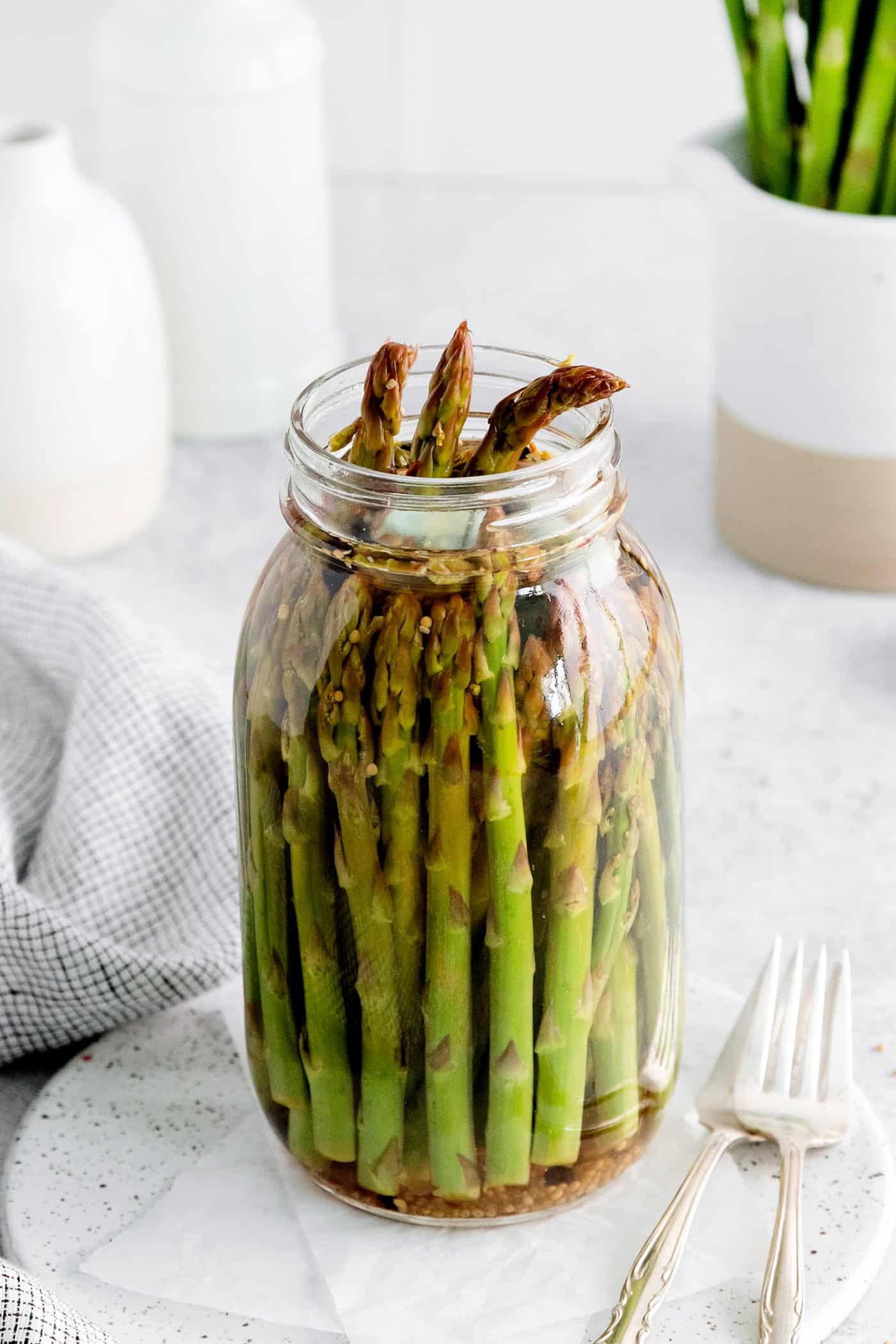 How Long Will Pickled Asparagus Last?
Because this recipe uses a quick pickling technique instead of canning the asparagus, these jars need to be stored in the refrigerator. They are not shelf-stable. Refrigerated and sealed tightly, with spears always submerged in the pickling brine, quick pickled asparagus will keep well for up to 1 month.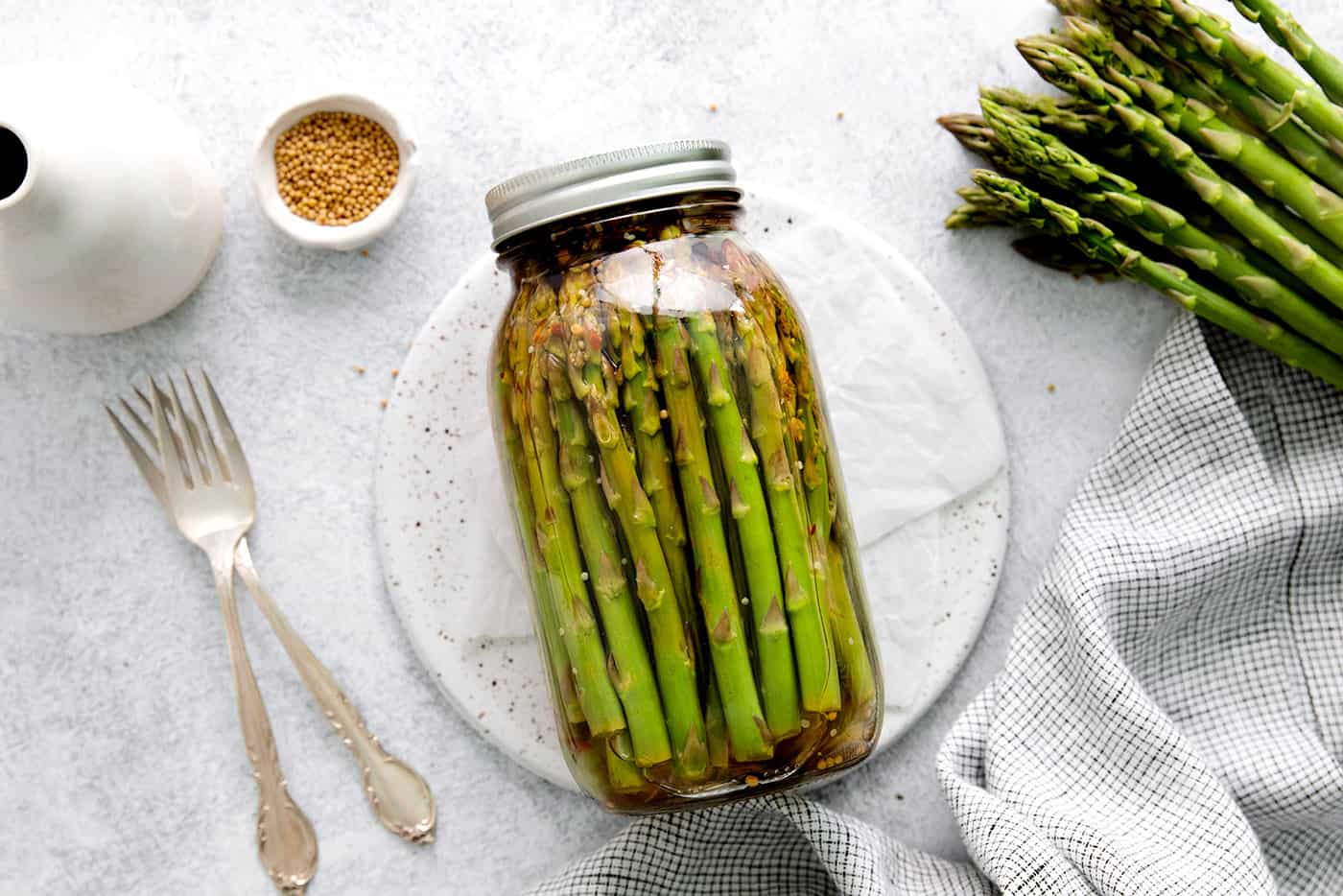 More Quick Pickled Recipes:
Like this recipe? Save it to Pinterest!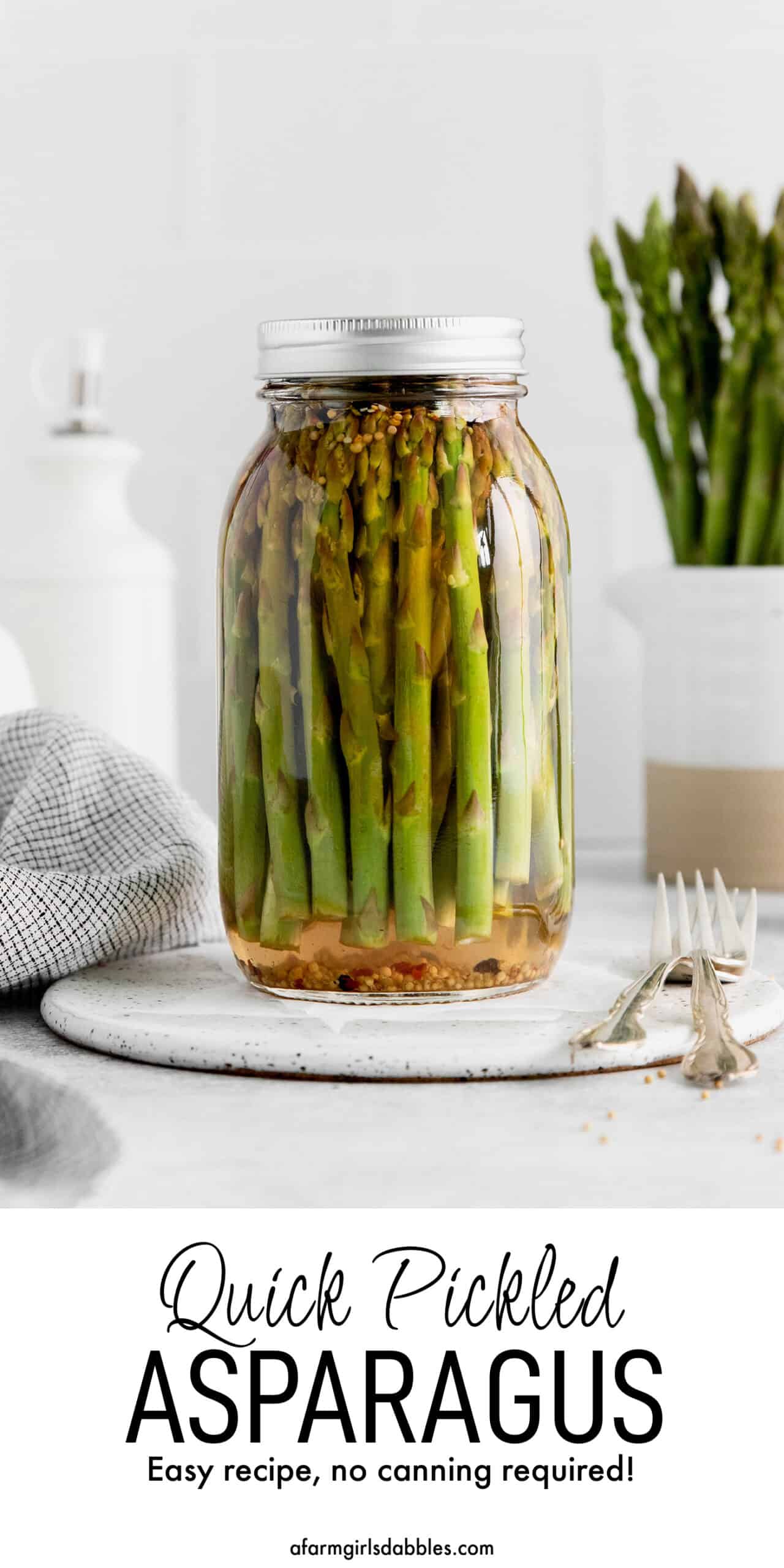 Ingredients
1½ pounds fresh asparagus (about 40-45 medium spears)
3 large garlic cloves, smashed
1 teaspoon black peppercorns
1 teaspoon yellow mustard seeds
¼ teaspoon crushed red pepper flakes
2 large sprigs fresh dill
2½ cups white vinegar
½ cup sugar
3 tablespoons kosher salt
Instructions
Trim the asparagus to fit into a 1-quart wide mouth jar, allowing for a half inch of headspace. Save the trimmed ends (discard the woody ends) for another use.
Add asparagus, tips up, to the jar. Pack the spears in at the base as tightly as you can to secure them into place.
Add garlic, peppercorns, mustard seeds, crushed red pepper flakes, and dill to the jar.
In a small saucepan over medium-high heat, combine the vinegar, sugar, and salt. Bring mixture to a boil and whisk vigorously until sugar and salt dissolve. Immediately pour hot brine over the asparagus, to cover the tips.
Let jar cool completely on the counter, then place lid on and store in the refrigerator for up to 3 weeks. Pickled asparagus will be ready to eat in 24 hours, but will be even more deliciously pickled after about 3 days.
Recommended Products
As an Amazon Associate and member of other affiliate programs, I earn from qualifying purchases.
Nutrition Information:
Yield: 15
Serving Size: 1

Amount Per Serving:
Calories: 44Total Fat: 0gSaturated Fat: 0gTrans Fat: 0gUnsaturated Fat: 0gCholesterol: 0mgSodium: 766mgCarbohydrates: 9gFiber: 1gSugar: 7gProtein: 1g
Nutrition information is automatically calculated by Nutritionix. I am not a nutritionist and cannot guarantee accuracy. If your health depends on nutrition information, please calculate again with your own favorite calculator.