This post may contain Amazon or other affiliate links. As an Amazon Associate I earn from qualifying purchases.
Camarones a la Diabla is a classic Mexican seafood dish that features fresh shrimp, dried chiles, and fresh ripe tomatoes. Quick & easy to make, this dish is packed with flavor – it's spicy, a little smokey, and absolutely delicious!
Easy Mexican Shrimp Diablo
If you're a fan of all things spicy, you're going to LOVE Camarones a la Diabla! It's one of the spiciest recipes I've shared here…and it's absolutely delicious.
I love that this restaurant-quality dish can be made at home in under 30 minutes – it's been a favorite Friday date night meal around here, we can't resist it!
All you need are some shrimp, dried peppers (easy to find in the grocery store and online), fresh tomatoes, and a few other common ingredients.
This Mexican shrimp dish shines with fresh tomato flavor – it's savory, robust, and yes, spicy. Whether you serve this quick & easy dish as an appetizer or main course, it absolutely takes center stage!
What Is Camarones a la Diabla?
Camarones a la Diablo, which translates to "shrimp of the devil" or "devil shrimp", is a popular Mexican recipe.
This dish features shrimp cooked in a spicy, smoky sauce made of dried chiles and fresh tomatoes. The sauce is made with two types of dried chile peppers – guajillo chiles and chiles de arbol – that are immersed in boiling water to soften their texture.
The guajillo chiles (aka dried poblano peppers) are more smokey than spicy, but the chiles del arbol definitely kick up the heat!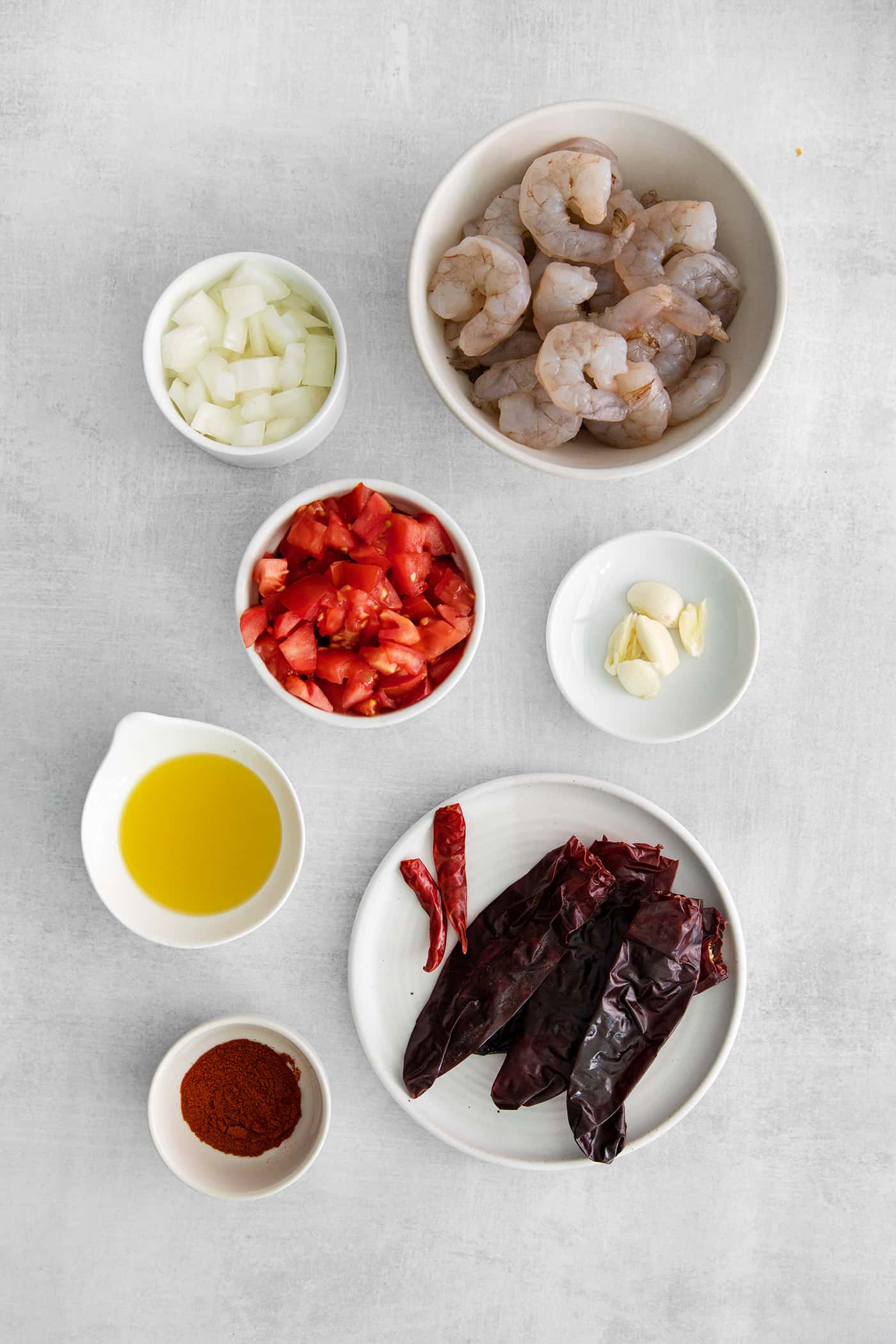 Ingredients
You'll need less than 10 ingredients to make this spicy shrimp recipe. Scroll down to the recipe card for measurements.
Guajillo chiles – Guajillo chiles are dried poblano peppers. They have a smokey, sometimes citrusy flavor, with just a hint of spice – so they pair perfectly with shrimp! Find them at your grocery store or on Amazon (affiliate link).
Chiles de arbol – Chiles de Arbol are small, spicy peppers from Mexico. They add bright red color and delicious heat to the sauce. Again, they're pretty common at most grocery stores, and available on Amazon (affiliate link).
Diced tomatoes – I'm using fresh vine-ripe tomatoes in the sauce, for the best fresh flavor. In a pinch, substitute them for 1 (~15 ounce) can of diced or fire roasted tomatoes. But please – do aim to use fresh tomatoes.
White onion & garlic – Onion and garlic are classic additions to this recipe. They add great flavor and pair well with both chiles and shrimp.
Paprika – Smoked paprika enhances the smokey, earthy flavor in the chiles. If you don't have smoked paprika on hand, sweet paprika will work too.
Olive oil – Olive oil sears the shrimp. Feel free to use your favorite neutral cooking oil.
Shrimp – Shrimp are the star of this recipe so make sure to use large or jumbo (I use 20-25 count), good quality, raw shrimp.
Garnishes – I like to garnish this dish with fresh lime wedges, sliced jalapeno, and chopped cilantro.
Can I Make It Less Spicy?
The spice in this dish comes from the chiles de arbol. To reduce the heat, start by adding just one of the chiles de arbol. Taste test and add the second one if desired. If you blend the sauce and realize it's too spicy for you, add more tomato to mellow it out a bit.
How to Make Camarones a la Diablo
This spicy Mexican shrimp dish comes together easily in just 30 minutes!
Soften the peppers. Bring a pot of water to boil, then remove from heat. Add the chiles and let them soak/soften for 15 minutes.
Make the sauce. Add the softened chile peppers, tomatoes, onion, garlic, and paprika to a blender. Blend until smooth. If it's too thick, add a little water and blend again. Season with salt and pepper.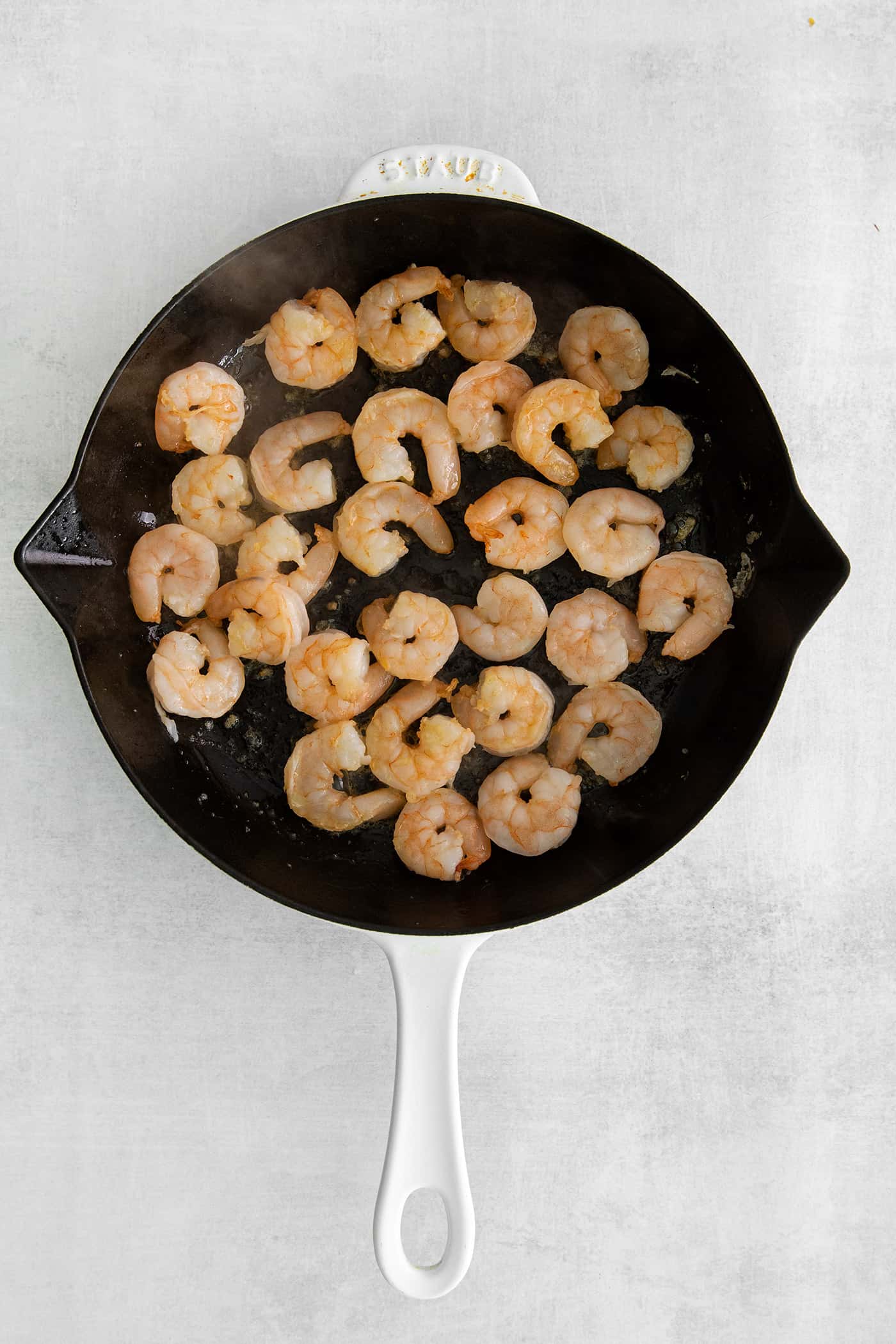 Cook the shrimp. Lightly season the shrimp with salt and pepper. Add oil to a hot skillet, then sear shrimp for 3 minutes on first side.
Add the sauce. Flip the shrimp, then add the sauce to the pan. Cook until the sauce is hot and the shrimp are firm and opaque, 3-4 minutes.
Serve. Enjoy immediately. Garnish with lime, cilantro, and jalapenos as desired.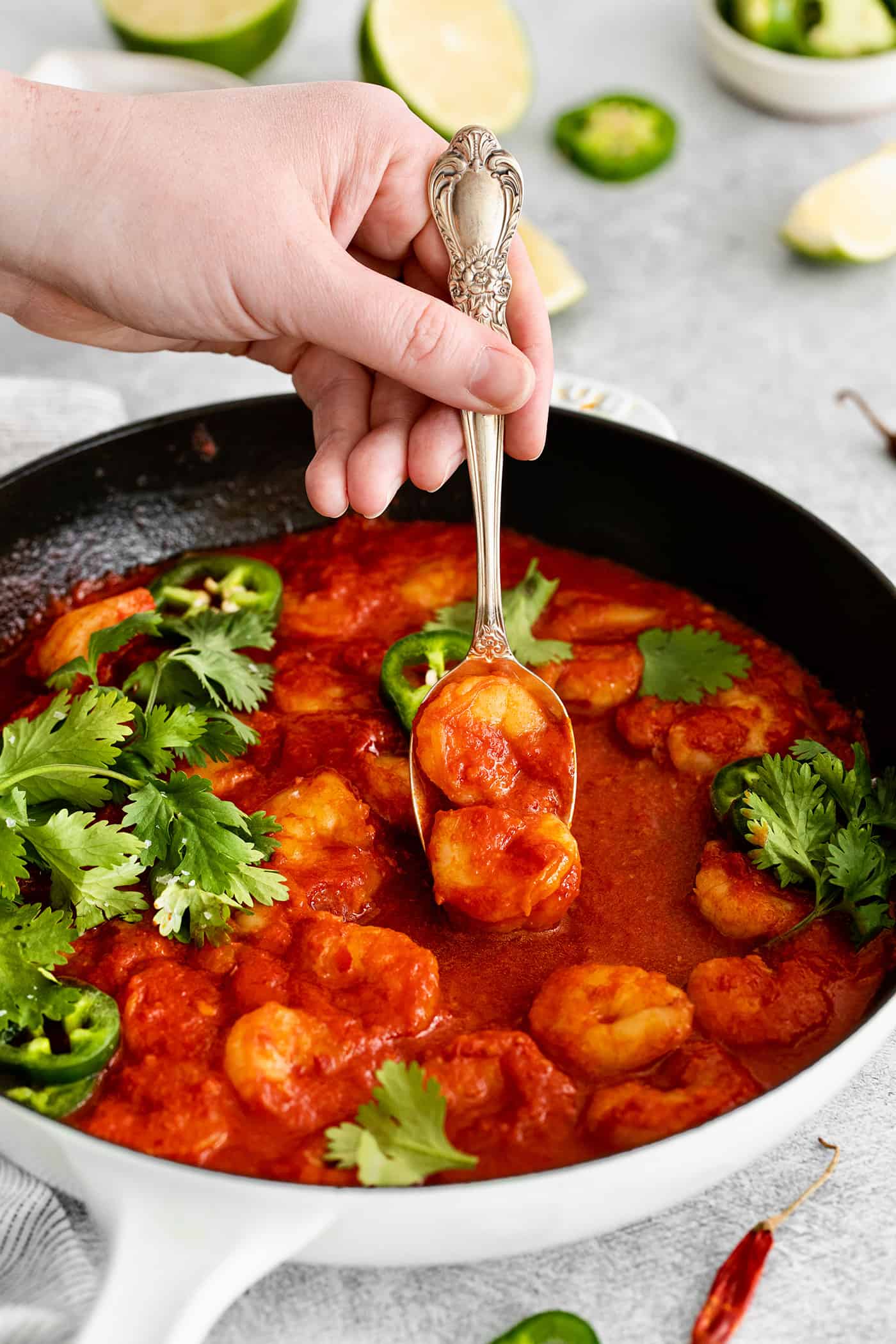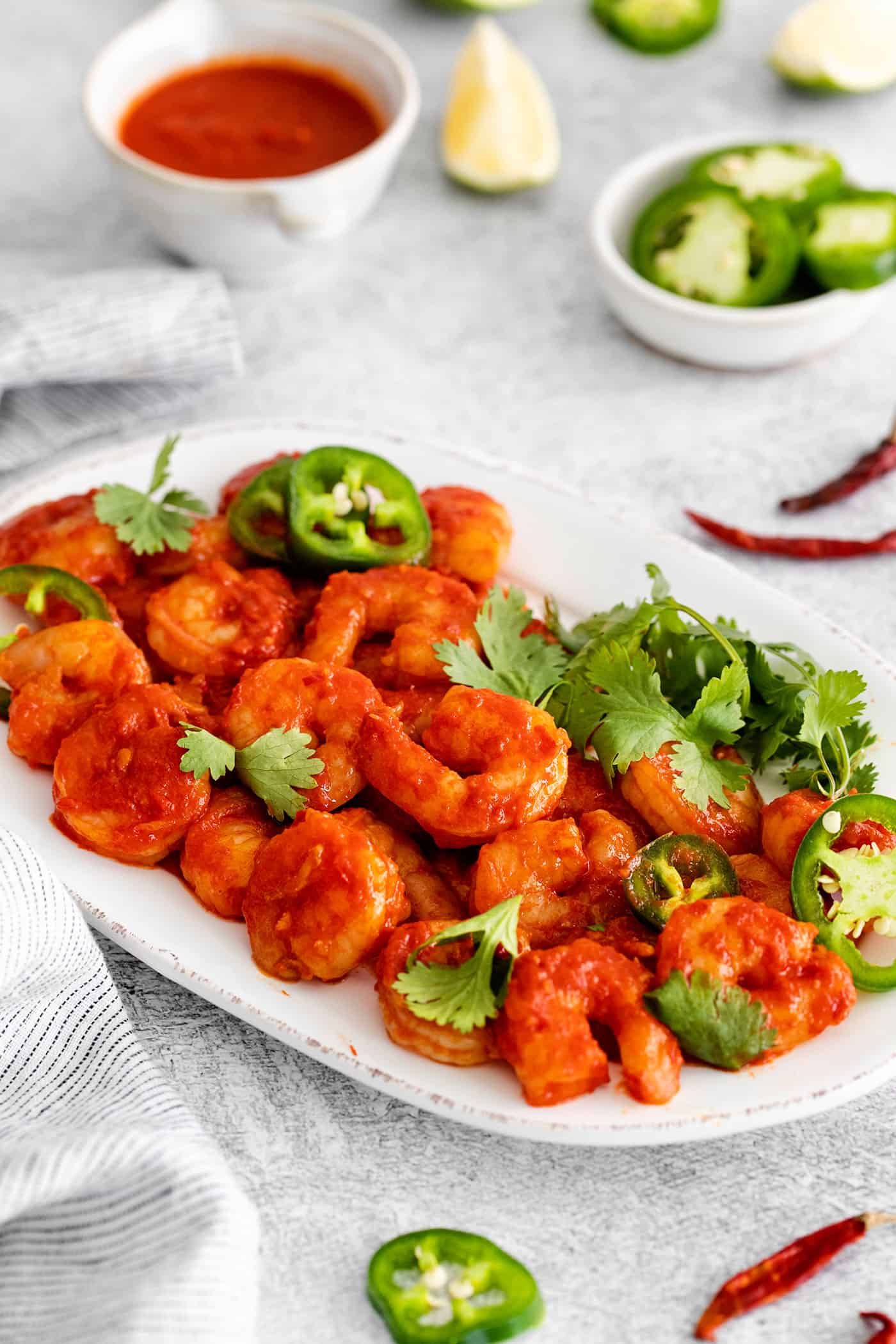 Serving Suggestions
Serve camarones a la diabla straight from the hot skillet for fun, casual eating. Or transfer to a serving dish for a more refined experience.
As a meal, diablo shrimp would traditionally be served with a side of rice and a small green salad. If you don't have rice, a side of soft tortillas or crusty bread is ideal for wiping up every last bit of the amazing sauce from the plate.
These shrimp can also be served all on their own, as an appetizer or light meal. A simple margarita makes the perfect fresh, tart cocktail to enjoy with this spicy shrimp!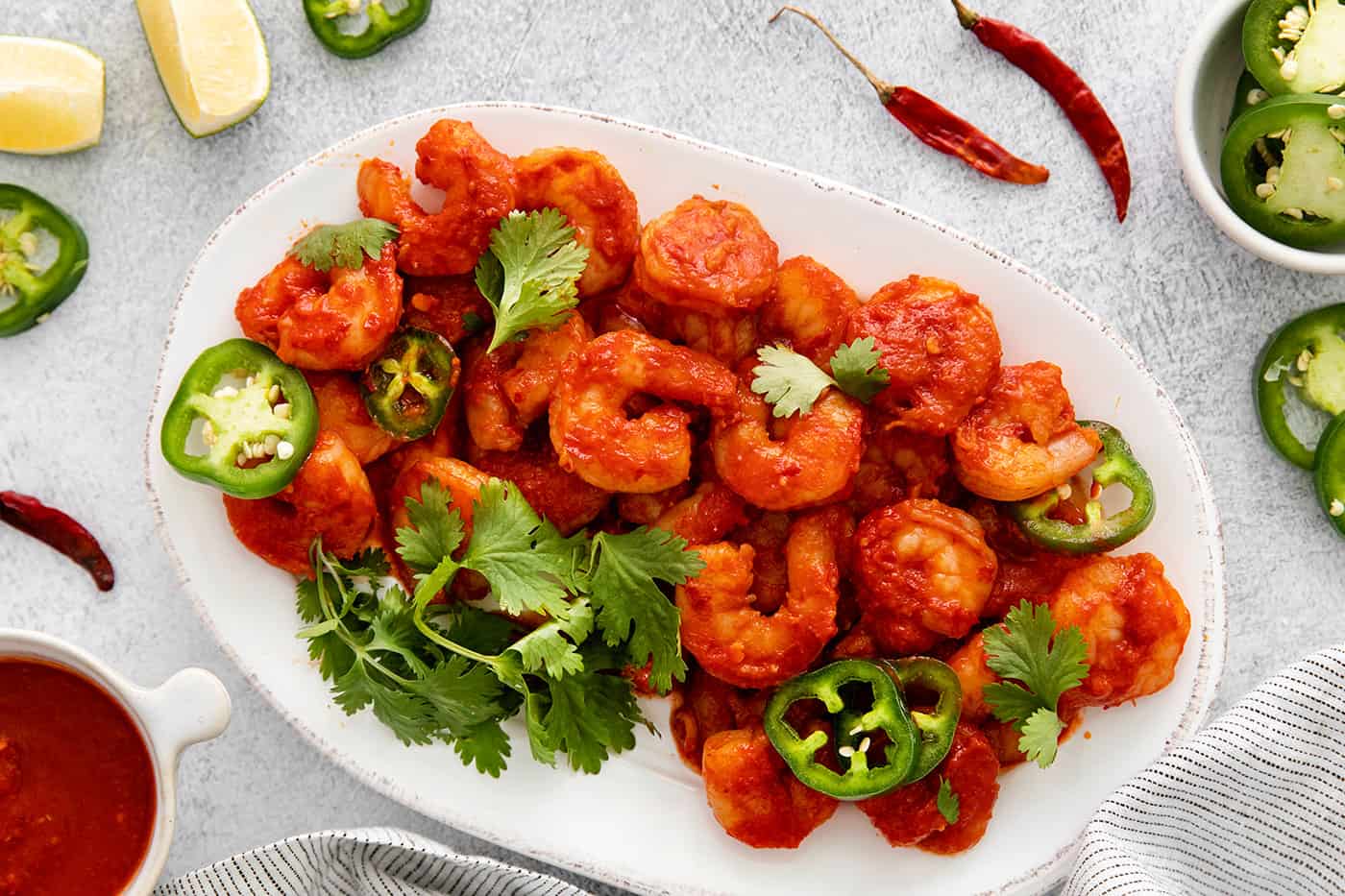 How to Store Leftovers
Camarones a la diabla are truly best when eaten right after they're cooked. I'm not a fan of reheating shrimp, as the texture is just not the same – it can become a bit tough and rubbery.
However, if you do have leftovers, don't throw them away! Just store them in an airtight container in the fridge for 2-3 days. I recommend reheating them in a hot skillet on the stovetop, although a gentle, brief warming in the microwave is also fine.
More Shrimp Recipes:
Like this recipe? Save it to Pinterest!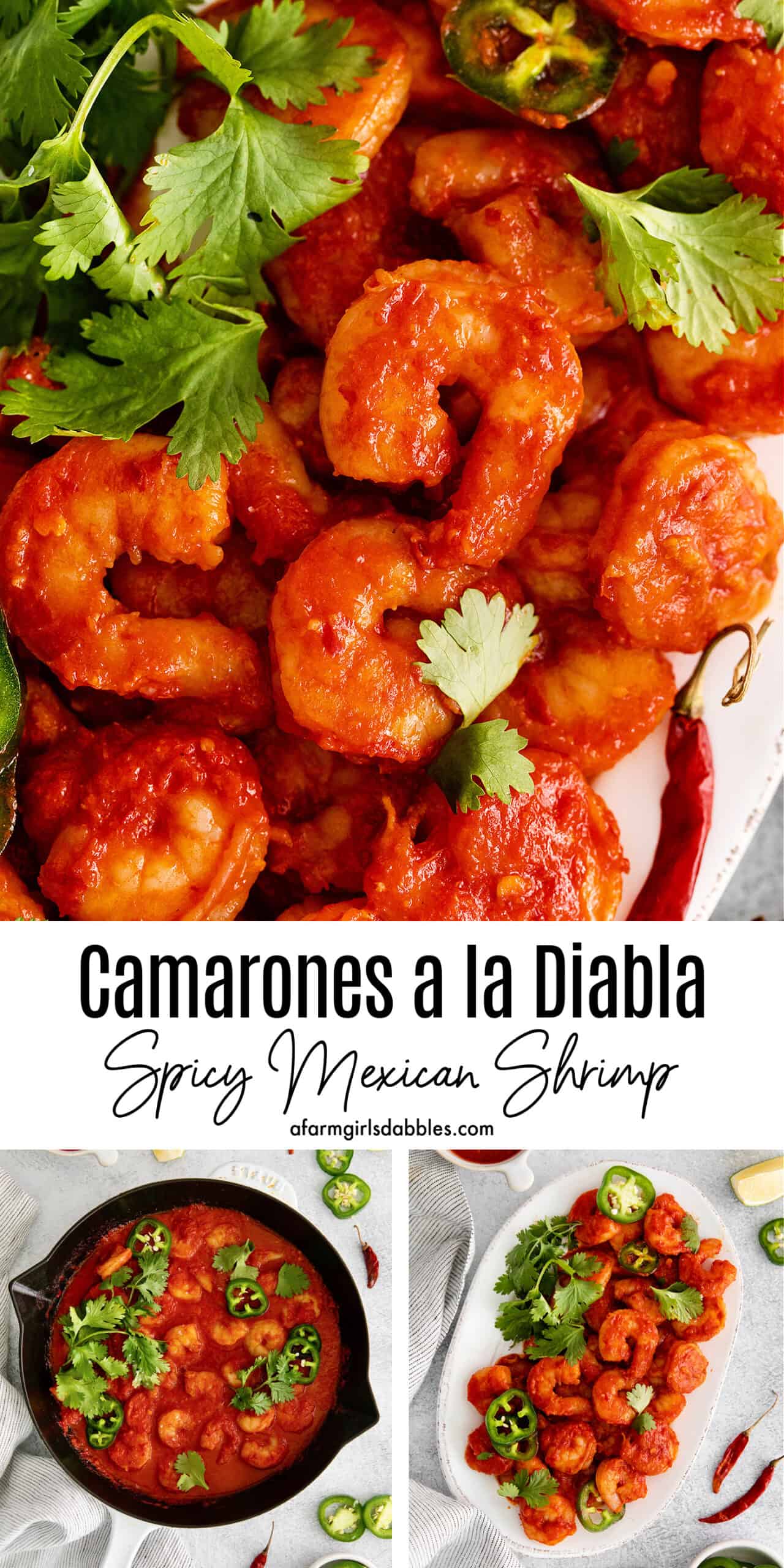 Ingredients
4 dried guajillo chiles, stems removed and seeds shaken out
2 dried chiles de arbol, stems removed and seeds shaken out
1½ cups diced ripe tomatoes, stems removed
½ cup roughly chopped white onion
2 large cloves garlic, smashed and peeled
½ teaspoon smoked paprika
2 tablespoons olive oil
1 pound large/jumbo (I use 20-25 count) raw shrimp, peeled, deveined, and tail on or off
Fresh lime wedges, chopped cilantro, and sliced jalapenos for garnish
Instructions
Bring a small pot of water to a boil. Then remove the pot from the heat and add the dried chiles. Set chiles aside to soften for 15 minutes.
Remove chiles from the water and place them in a high-speed blender. Add the tomatoes, onion, garlic, and paprika. Blend until the mixture becomes a smooth, thick sauce. If the mixture is too thick (like a paste rather than a sauce), add ¼ cup of water and continue to blend until smooth. Season with salt and pepper to taste and set it aside.
Pat shrimp dry with a paper towel and sprinkle lightly with salt and pepper.
Heat a large skillet over medium-high heat. Add the olive oil and allow it to heat until shimmering.
Add shrimp to the hot skillet in a single layer and sear for 3 minutes (let them sear on the first side, do not move them at all).
Flip shrimp and add prepared tomato/chile sauce to the pan. Cook for another 3-4 minutes, stirring occasionally, or until the shrimp are firm and opaque and the sauce is warmed through. Taste, and add a little more salt & pepper if needed.
Serve immediately, garnished with lime, cilantro, and jalapenos. Enjoy all on its own as a light meal or appetizer. Or serve with rice and soft tortillas.
Notes
Storage: These shrimp are best enjoyed immediately after preparing, as reheated shrimp can have a tough or rubbery texture. If you have leftovers, store in an airtight container in the fridge for up to 3 days.
Nutrition Information:
Yield: 4
Serving Size: 1

Amount Per Serving:
Calories: 254Total Fat: 9gSaturated Fat: 2gTrans Fat: 0gUnsaturated Fat: 7gCholesterol: 239mgSodium: 1085mgCarbohydrates: 16gFiber: 3gSugar: 7gProtein: 28g
Nutrition information is automatically calculated by Nutritionix. I am not a nutritionist and cannot guarantee accuracy. If your health depends on nutrition information, please calculate again with your own favorite calculator.